About Kastela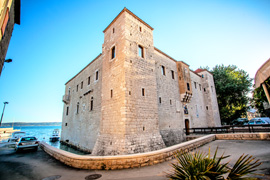 The town of Kaštela is located on the coast of the Bay of Kaštela. It has over 40 000 inhabitants, and it is the second largest town in the Split and Dalmatia County. It stretches over the length of 17 kilometers.
Our town is specific because of the fact that it developed around 7 settlements (Kaštel Štafilić, Kaštel Novi, Kaštel Stari, Kaštel Lukšić, Kaštel Kambelovac, Kaštel Gomilica and Kaštel Sućurac) or around castles. Each village has its own particularity merged into character of this part of Mediterranean. Radun and Rudine emerge in recent years as the two new smaller centers.
The eastern part of the city is a little industrial center. Cement factories, a steel mill and many shopping malls are situated there. Agriculture based on crops traditional for this region is developed in the Field of Kaštela an on the slopes of Kozjak. Growing of olives, grapes and cherries flourish in the recent times.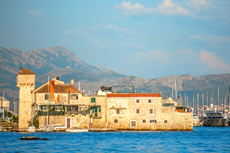 The western part of the town is more tourism- oriented. This is the area with most accommodation capacities: tourist apartments, rooms, camps and hotels.
There is a newly built Marina Kaštela in Kaštel Gomilica capable to accommodate large number of private and charter boats.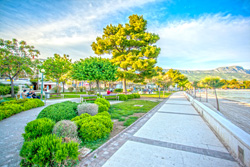 Kaštela is of the places with the best traffic infrastructure. We have an international airport Split – Kaštela, a railway station at Kaštel Stari, and access to Split – Zagreb highway at Prgomet and Vučevica.
There are many organizations and institutions which enrich cultural life of the town throughout the year.
The Museum of the town of Kaštela found its place in the Vitturi castle, and an exhibition room in onetime bishop's summer residence in Kaštel Sućurac .
In February, traditional carnival festivities are held in Kaštel Sućurac, Kaštel Kambelovac and especially in Lower Kaštela (Štafilić, Novi, Stari) with tradition over 150 years long.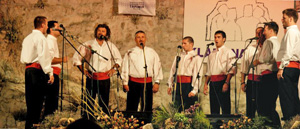 Every year from July 1 – August 31 the"Kaštela Cultural Summer" takes place. There are over 60 exhibitions, theatre shows, pop and classical music concerts, folklore, sport events and festivities (fishermen's, hunters', mountaineers'). Events are held at the most attractive places at the historic centers, castles and by the sea.
We especially highlight the "Evenings of Dalmatian Songs" held every July in Kaštel Kambelovac. Traditional a cappella singing arranged in modern or traditional manner is cherished there.
From: Tourist board of the town Kastela